A look inside: Optimising feed production in Egypt
In the northeast of Egypt, aquaculture is showing huge potential as a sustainable source of animal protein. Sustainably producing animal protein is the sum of all its parts; from the sourcing of raw materials and the processing in the factory, to optimising feed conversion. Building on its experience in the poultry sector, De Heus invested in a new aquafeed production plant in Borg El Arab, Alexandria. Here, Amro El Kady and Yasmine Kamar try to optimise the production of animal feed day in and day out.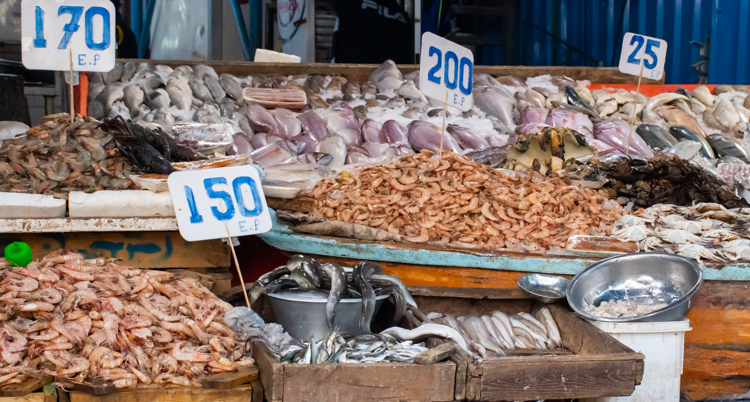 One could say El Kady is an old hand at De Heus Egypt. Since 2002, he has been helping to build the facilities from the ground up. It was during visits to the Netherlands that he gained valuable knowledge and skills about what efficient production can look like. Needless to say, in those 18 years, El Kady has kept a keen eye on the optimisation of the factory, its people and its processes. "I believe that we should never feel satisfied about our work and quality. We can always push ourselves to develop even further." In his personal drive for continuous improvement, El Kady is supported by the leadership team in Egypt. "We want to get better every year," says Yasmine Kamar, Business Director for the Fish Feed Business Unit. Her ambition is not only to optimise on costs, but to minimise the environmental impact too. "We set annual KPIs and follow up on them every month with each department. It's exciting to see that we're reducing our footprint and getting a little bit better each year."
Integrating ingenuity
For fish feed production, there are countless ways to optimise. Such as reducing feed loss, improving energy efficiency and water management. One issue often on Kamar's mind is feed re-work. "Because of our production method, there is always a small portion of feed that needs to be re-worked. It gets left behind and has to re-enter the machine," explains Kamar. "But we've got much better. Since starting operations, we've pushed re-work down from 10 percent to just 2.5 percent, and we're aiming for 1.5 percent this year."
El Kady was able to improve the plants' energy efficiency by solving blockages in the factory extruder. "We noticed that feed was clogging the extruder, which meant more and more heat and pressure were being added." Several steps have been taken to resolve this problem. "We use less starchy feed recipes and try to cut down on manual labour. Just by making the sieve a bit bigger, we've been able to reduce energy use by nearly 10 percent! In addition, we plan to install a new grinder that will help us grind faster without losing capacity and save even more energy. Per ton of feed, this saves about 20 percent."
Thanks to El Kady's ingenuity, the factory was able to halve its water usage. "We discovered that a lot of our condensation water was simply going to sewage, about 2400 m3! So we installed a new tank to allow this water to be re-used for the boiler." Often, the devil is in the details – it is the small changes that make production more efficient. Having the freedom to implement changes that don't require big investments is important to keeping things running at the plant. El Kady: "You are given the space to analyse a challenge yourself and find a solution. It is not like 'figure it out yourself', but you will be able to implement your own plans." The more experience employees gain in the factory, the better they will be able to investigate problems and come up with solutions like El Kady's.
Powering predictable progress
To unlock the full potential of aquaculture in Egypt, it is important that the efficiency of feed production is felt throughout the aquaculture value chain. "A more efficient plant means lower production costs, meaning that our feed will become more affordable to farmers in the long run," says Kamar. But there are more than just monetary advantages. "At De Heus we always strive to produce the best feed possible. So, when improving on efficiency, we work to improve quality as well. For example, our new grinder will allow us to have finer particles in production, which improves water stability and the structure of the feed."
By saving on costs and optimising the factory every day, more time and attention can be devoted to De Heus' clients. Within the volatile market of Egyptian aquaculture, farmers can use the help. Kamar: "We offer technical assistance, provide custom feed solutions or advice on feeding practice, and in some cases we can help with accounting as well." Support even comes by means of prefinance or other forms of credit. That way, De Heus can help dealers and farmers deal with the insecurities of the market and offer them a predictable future.
FEED. Magazine
In this magazine, we share a selection of stories about progress and sustainability from De Heus business units all over the world. We hope that these stories will inspire you