De Heus India Breaks Ground with State-of-the-Art Plant in Rajpura, Punjab
Chandigarh, Oct 1, 2023: Farmers in Punjab and Haryana who are cultivating traditional crops are looking for ways to increase their earnings and diversify their crops, or shift to horticulture, dairy, poultry, fishery and piggery, etc. We are setting up a state-of-the-art plant at Vividha Industrial Park, Rajpura, Punjab to produce quality animal feed, and bring best farm practices to help farmers increase their earnings. This is the first major investment by a Dutch company in Punjab.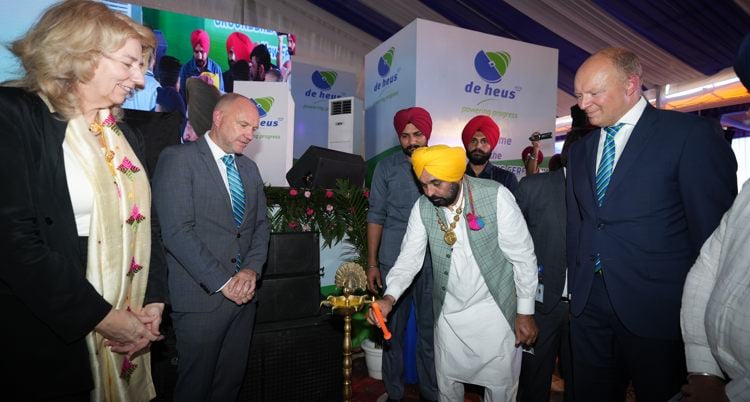 The plant, being set up by De Heus India Pvt. Ltd will produce a full livestock product portfolio of compound feed, concentrates, base mix and dairy mineral mixes. The plant will be able to produce 180 kilo metric tons (kMT) of animal feed in 2025 on two dedicated lines.
On advancing De Heus' footprint in the country, Koen De Heus, CEO of the company, said "India is an important market where we see a valuable role for De Heus, bringing advancement to farmers and local communities, having a positive impact on sustainable farming practices, increasing job opportunities and working in partnerships with local suppliers and partners, in short, powering progress. This is part of the company's global expansion strategy, aimed at building a local presence to optimally serve farmers with high quality animal feeds and practical farming advice."
Hon. Chief Minister of Punjab Mr. Bhagwant Mann was the Chief Guest in the groundbreaking ceremony of the company's animal feed factory. Besides having fond memories and good experiences when visiting The Netherlands, he extended a warm welcome to the company and its investment in Punjab. Re-iterating the state government commitment to bring back the industry, which had migrated to other states, attract new companies and help the industry back on its feet: "I am confident this sizable investment by De Heus will open up the doors for more Dutch and other European companies to consider investing in Punjab" He also urged the company officials to play the role of brand ambassadors of the state in Europe
The Ambassador of Kingdom of The Netherlands the Hon Marisa Gerards voiced her admiration for the resilience of the farmers and business in Punjab and surrounding states during the challenging four years. It makes her proud- as new ambassador of the Netherlands- to see how Dutch companies can make a difference. The Netherlands are market leaders in the whole chain of the dairy sector, horticulture and potato sectors, with technology and knowledge to share on how to make agriculture more productive and more sustainable. Also due to previous experience with De Heus in South Africa, she was confident to say: " De Heus can be your partner in the livestock chain, to support you to improve yields of your livestock, their health and to optimize your costs of production. They will be here to think along with you." Which is very much in line with the approach De Heus globally and specifically De Heus India is taking .
Rutger Oudejans, Business Group Director (Premix & Specialties) and Country Director India; Tanveer Malik, General Director India; and Amit Mittan, Commercial Director, De Heus India, said, "As a global leading supplier of nutritional products for animals, we support the performance of farmers - the producers of milk, eggs, fish and meat. It provides them not only with high quality products, but also with in-depth knowledge about animal nutrition, animal husbandry and animal science. We provide nutritional concepts and high quality products that ensure maximum animal health and optimal performance for better earnings."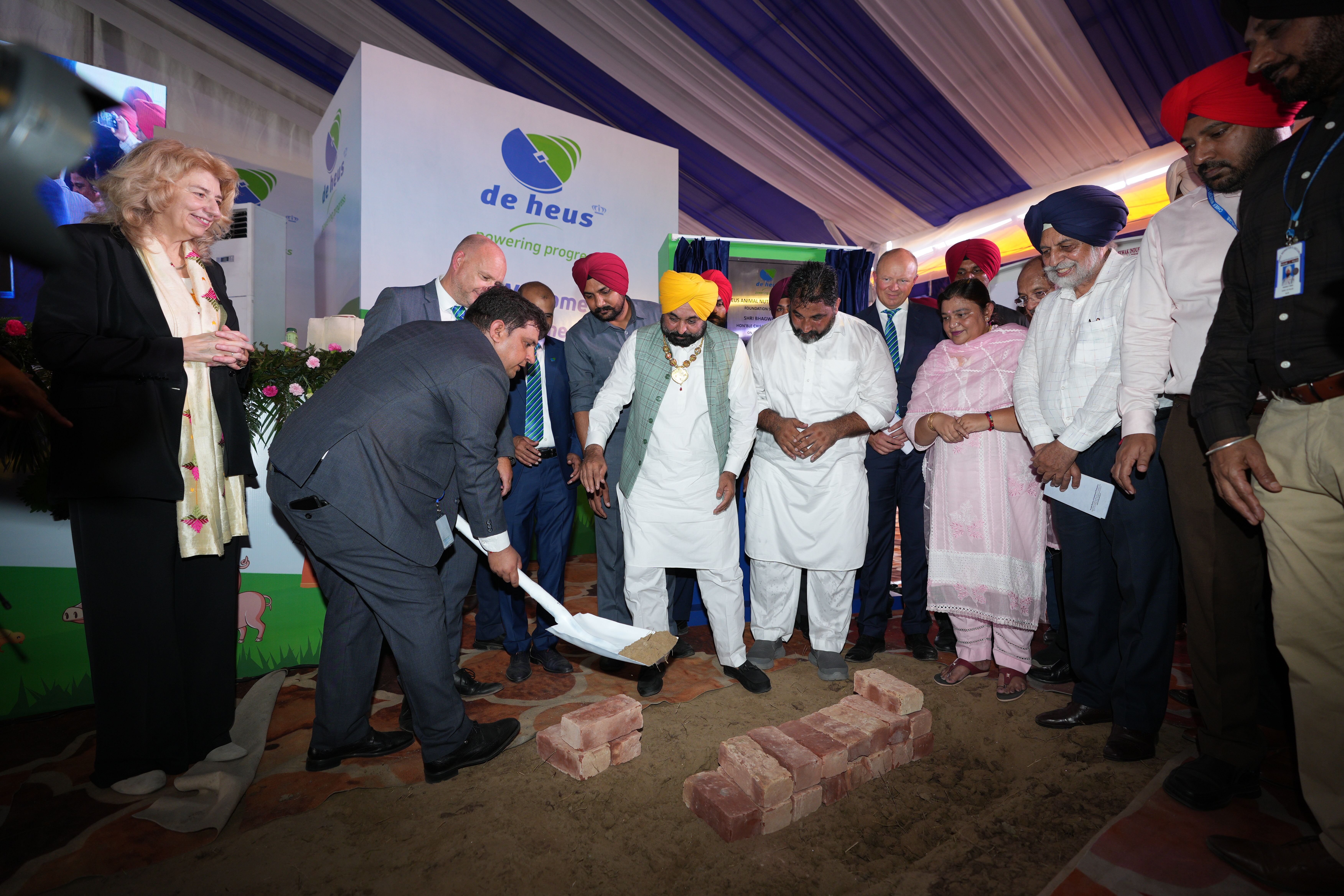 Focusing on Punjab and Haryana, Country Director India Rutger Oudejans said, "during our six years presence in this region, producing animal feeds on rented feed mills, we have fully realized the great potential of the two states in driving accelerated growth in the areas of animal husbandry and livestock. This gives us the confidence to invest in a new plant and together with our farmers, our dealers and business partners, we are looking forward to taking the next steps together.
The ceremony started with a Lamp Lighting, followed by speeches and the laying of the first stone in the presence of many honoured guests.
Groundbreaking ceremony in India
First dedicated animal feed plant